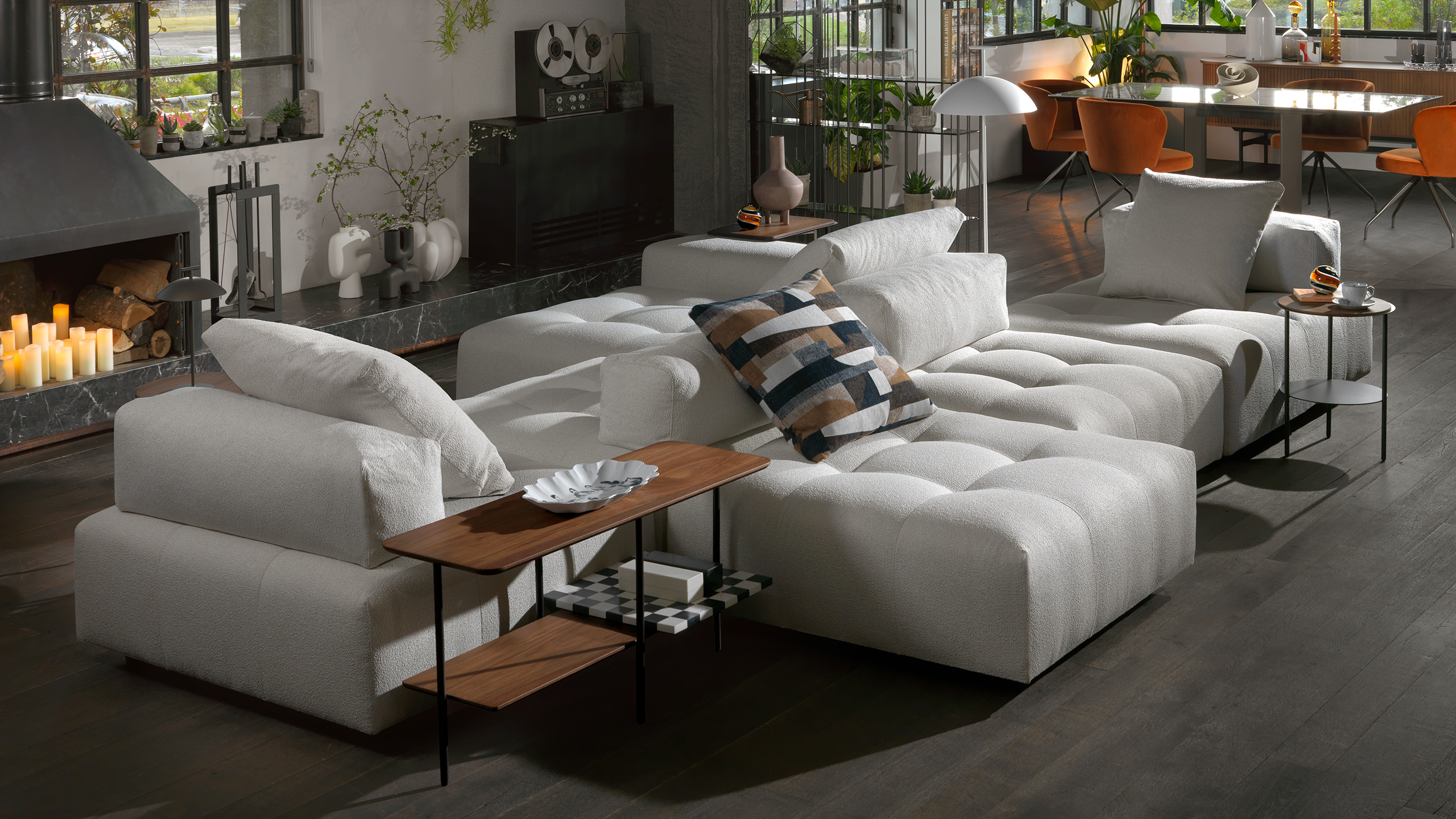 Brutus
Flexible seating system with movable backrests pillows- with non slip support- as well as a characteristic seating cushion. The backrest pillows can be placed in any position of choice, shaping the depth or even the orientation of each unit.It consists of modular units in various dimensions and combinations giving different compositions. Brutus series is offered in a wide variety of fabrics and colours. The covers are removable only from the backrest cushions.
Brutus seating system is designed by homad and belongs to homad exclusive series.
Seating cushions made of polyurethane foam. Backrest cushions made of a combination of feathers and comforel (in formed chambers). Back support cushions made from recycled material.
PRODUCTS' CHARACTERISTICS AND MAINTENANCE INSTRUCTIONS
Find more information here
Fabric
The photographic representation of the fabrics cannot accurately capture their texture and color. For a more accurate perception of the fabrics please visit one of homad's showrooms, hosting the full range. The fabrics, presented on the company's site, represent approximately 10% of homad's fabrics' collection. It would be useful to review the entire collection in one of homad's showrooms so as to, with the help of our team, select the appropriate fabrics for each product.
Click to zoom
CODE
COMPOSITION
SPECIFICATIONS
A4COL16
73% Polyester - 27% Cotton
Stain resistant
CODE
COMPOSITION
SPECIFICATIONS
A1SMA25
100% Polyester
Stain resistant
CODE
COMPOSITION
SPECIFICATIONS
A3BOL07
60% Polyester - 40% Polypropylene
Stain resistant
CODE
COMPOSITION
SPECIFICATIONS
Α3WIC07
100% Polyester
Stain resistant
INT6PAP911
100% Polyester
CODE
COMPOSITION
SPECIFICATIONS
A6GIA33
100% Polyester
Stain resistant
INT6PAP908
100% Polyester
CODE
COMPOSITION
SPECIFICATIONS
A4COL12
73% Polyester - 27% Cotton
Stain resistant
CODE
COMPOSITION
SPECIFICATIONS
I4BOS01
100% Polyester
Stain resistant
CODE
COMPOSITION
SPECIFICATIONS
Κ2RIT25
88% Polyester - 12% Nylon/Polyamide
Stain resistant
CODE
COMPOSITION
SPECIFICATIONS
I4ADO102
100% Polyester
Water resistant
CODE
COMPOSITION
SPECIFICATIONS
I6MOT01
39% Cotton - 25% Polyester - 20% Viscose - 9% Linen
Water resistant
K8MES10
40% Viscose - 40% Polyester - 20% Acetate
CODE
COMPOSITION
SPECIFICATIONS
I3SEV00
100% Polyester
Water resistant
K7LIN539
62% Viscose - 38% Linen
CODE
COMPOSITION
SPECIFICATIONS
VAG5COV25
100% Polyester
Stain resistant
CODE
COMPOSITION
SPECIFICATIONS
VAG5COV26
100% Polyester
Stain resistant
CODE
COMPOSITION
SPECIFICATIONS
I8INS02
51% Viscose - 25% Linen - 24% Polyester
Water resistant
CODE
COMPOSITION
SPECIFICATIONS
I8FOR01
46% Cotton - 25% Polyester - 20% Viscose - 9% Linen
Water resistant
CODE
COMPOSITION
SPECIFICATIONS
I8FOR02
46% Cotton - 25% Polyester - 20% Viscose - 9% Linen
Water resistant
K5BEA01
52% Linen - 35% Cotton - 13% Viscose
K7R-REN20
95% Polyester - 5% Acrylic
I10MAR02
58% Cotton - 18% Viscose - 11% Polyester - 7% Linen - 6% Acrylic
I8RUS01
48% Cotton - 25% Polyester - 18% Viscose - 9% Linen
I8RUS36
48% Cotton - 25% Polyester - 18% Viscose - 9% Linen
I8COM01
65% Polyester - 35% Cotton
I8COM02
65% Polyester - 35% Cotton
I10TUN26
42% Viscose - 38% Cotton - 14% Acrylic - 6% Polyester
I11DUN01-1
35% Cotton - 25% Acrylic - 18% Polyester - 13% Viscose - 9% Wool
K12TIT02
35% Cotton - 65% Viscose
CODE
COMPOSITION
SPECIFICATIONS
A1SMA27
100% Polyester
Stain resistant
CODE
COMPOSITION
SPECIFICATIONS
Α3WIC06
100% Polyester
Stain resistant
CODE
COMPOSITION
SPECIFICATIONS
A1SMA14
100% Polyester
Stain resistant
CODE
COMPOSITION
SPECIFICATIONS
Κ2RIT37
88% Polyester - 12% Nylon/Polyamide
Stain resistant
CODE
COMPOSITION
SPECIFICATIONS
Κ2RIT31
88% Polyester - 12% Nylon/Polyamide
Stain resistant
CODE
COMPOSITION
SPECIFICATIONS
I4BOS02
100% Polyester
Stain resistant
CODE
COMPOSITION
SPECIFICATIONS
I4BOS04
100% Polyester
Stain resistant
CODE
COMPOSITION
SPECIFICATIONS
A4COL05
73% Polyester - 27% Cotton
Stain resistant
INT6PAP803
100% Polyester
CODE
COMPOSITION
SPECIFICATIONS
I3SEV30
100% Polyester
Water resistant
CODE
COMPOSITION
SPECIFICATIONS
A6GIA28
100% Polyester
Stain resistant
K8MES12
40% Viscose - 40% Polyester - 20% Acetate
K7LIN125
62% Viscose - 38% Linen
CODE
COMPOSITION
SPECIFICATIONS
VAG5COV20
100% Polyester
Stain resistant
CODE
COMPOSITION
SPECIFICATIONS
Α3WIC05
100% Polyester
Stain resistant
CODE
COMPOSITION
SPECIFICATIONS
K5SAL09
80% Polyester - 20% Viscose
Water resistant - Stain resistant
CODE
COMPOSITION
SPECIFICATIONS
I4ADO180
100% Polyester
Water resistant
K5BEA30
52% Linen - 35% Cotton - 13% Viscose
K7R-ADD19
78% Polyester - 10% Acrylic - 7% Linen - 5% Wool
K6R-ADI130
53% Polyester - 27% Acrylic - 20% Polypropylene
K7R-ADD616
78% Polyester - 10% Acrylic - 7% Linen - 5% Wool
I10MAR07
58% Cotton - 18% Viscose - 11% Polyester - 7% Linen - 6% Acrylic
I8RUS39
48% Cotton - 25% Polyester - 18% Viscose - 9% Linen
I7DOR04
42% Viscose - 30% Cotton - 18% Linen - 5% PS - 5% Polyester
I8COM11
65% Polyester - 35% Cotton
I10TUN03
42% Viscose - 38% Cotton - 14% Acrylic - 6% Polyester
I10TUN08
42% Viscose - 38% Cotton - 14% Acrylic - 6% Polyester
I11DUN20
35% Cotton - 25% Acrylic - 18% Polyester - 13% Viscose - 9% Wool
I11DUN03-11
35% Cotton - 25% Acrylic - 18% Polyester - 13% Viscose - 9% Wool
CODE
COMPOSITION
SPECIFICATIONS
I4BOS09
100% Polyester
Stain resistant
INT6PAP907
100% Polyester
CODE
COMPOSITION
SPECIFICATIONS
A3BOL14
60% Polyester - 40% Polypropylene
Stain resistant
CODE
COMPOSITION
SPECIFICATIONS
A1SMA18
100% Polyester
Stain resistant
CODE
COMPOSITION
SPECIFICATIONS
Κ2RIT07
88% Polyester - 12% Nylon/Polyamide
Stain resistant
CODE
COMPOSITION
SPECIFICATIONS
A1SMA17
100% Polyester
Stain resistant
CODE
COMPOSITION
SPECIFICATIONS
Κ2RIT59
88% Polyester - 12% Nylon/Polyamide
Stain resistant
INT6PAP903
100% Polyester
CODE
COMPOSITION
SPECIFICATIONS
A3BOL22
60% Polyester - 40% Polypropylene
Stain resistant
CODE
COMPOSITION
SPECIFICATIONS
I4ADO05
100% Polyester
Water resistant
CODE
COMPOSITION
SPECIFICATIONS
I4ADO10
100% Polyester
Water resistant
CODE
COMPOSITION
SPECIFICATIONS
I4ADO81
100% Polyester
Water resistant
K8BON19
43% Acrylic - 31% Polyester - 16% Cotton - 10% Linen
K8BON16
43% Acrylic - 31% Polyester - 16% Cotton - 10% Linen
K8MES02
40% Viscose - 40% Polyester - 20% Acetate
CODE
COMPOSITION
SPECIFICATIONS
K5RUM02
70% Polyester - 30% Viscose
Water resistant - Stain resistant
K7LIN640
62% Viscose - 38% Linen
K7LIN027
62% Viscose - 38% Linen
CODE
COMPOSITION
SPECIFICATIONS
VAG5COV18
100% Polyester
Stain resistant
CODE
COMPOSITION
SPECIFICATIONS
VAG5COV21
100% Polyester
Stain resistant
CODE
COMPOSITION
SPECIFICATIONS
VAG5COV23
100% Polyester
Stain resistant
CODE
COMPOSITION
SPECIFICATIONS
Α3WIC03
100% Polyester
Stain resistant
CODE
COMPOSITION
SPECIFICATIONS
Α3WIC13
100% Polyester
Stain resistant
K7R-REN622
95% Polyester - 5% Acrylic
I10MAR01
58% Cotton - 18% Viscose - 11% Polyester - 7% Linen - 6% Acrylic
I8RUS31
48% Cotton - 25% Polyester - 18% Viscose - 9% Linen
I8RUS34
48% Cotton - 25% Polyester - 18% Viscose - 9% Linen
I7DOR05
42% Viscose - 30% Cotton - 18% Linen - 5% PS - 5% Polyester
I8COM05
65% Polyester - 35% Cotton
I10TUN02
42% Viscose - 38% Cotton - 14% Acrylic - 6% Polyester
I10TUN05
42% Viscose - 38% Cotton - 14% Acrylic - 6% Polyester
I10TUN19
42% Viscose - 38% Cotton - 14% Acrylic - 6% Polyester
I11DUN03-09
35% Cotton - 25% Acrylic - 18% Polyester - 13% Viscose - 9% Wool
K12TIT01
35% Cotton - 65% Viscose
K12TIT05
35% Cotton - 65% Viscose
K12TIT06
35% Cotton - 65% Viscose
CODE
COMPOSITION
SPECIFICATIONS
K5SAL09
80% Polyester - 20% Viscose
Water resistant - Stain resistant
K5BEA11
52% Linen - 35% Cotton - 13% Viscose
CODE
COMPOSITION
SPECIFICATIONS
A1SMA29
100% Polyester
Stain resistant
CODE
COMPOSITION
SPECIFICATIONS
A1SMA30
100% Polyester
Stain resistant
CODE
COMPOSITION
SPECIFICATIONS
Κ2RIT32
88% Polyester - 12% Nylon/Polyamide
Stain resistant
CODE
COMPOSITION
SPECIFICATIONS
Κ2RIT84
88% Polyester - 12% Nylon/Polyamide
Stain resistant
CODE
COMPOSITION
SPECIFICATIONS
I4BOS05
100% Polyester
Stain resistant
CODE
COMPOSITION
SPECIFICATIONS
A4COL08
73% Polyester - 27% Cotton
Stain resistant
INT6PAP800
100% Polyester
INT6PAP101
100% Polyester
CODE
COMPOSITION
SPECIFICATIONS
A3BOL20
60% Polyester - 40% Polypropylene
Stain resistant
CODE
COMPOSITION
SPECIFICATIONS
A3BOL21
60% Polyester - 40% Polypropylene
Stain resistant
CODE
COMPOSITION
SPECIFICATIONS
I4ADO67
100% Polyester
Water resistant
CODE
COMPOSITION
SPECIFICATIONS
I4ADO68
100% Polyester
Water resistant
CODE
COMPOSITION
SPECIFICATIONS
I6MOT10
39% Cotton - 25% Polyester - 20% Viscose - 9% Linen
Water resistant
K8MES13
40% Viscose - 40% Polyester - 20% Acetate
CODE
COMPOSITION
SPECIFICATIONS
I3SEV05
100% Polyester
Water resistant
CODE
COMPOSITION
SPECIFICATIONS
I3SEV17
100% Polyester
Water resistant
CODE
COMPOSITION
SPECIFICATIONS
I3SEV18
100% Polyester
Water resistant
CODE
COMPOSITION
SPECIFICATIONS
K5RUM06
70% Polyester - 30% Viscose
Water resistant - Stain resistant
CODE
COMPOSITION
SPECIFICATIONS
K5RUM07
70% Polyester - 30% Viscose
Water resistant - Stain resistant
K7LIN091
62% Viscose - 38% Linen
CODE
COMPOSITION
SPECIFICATIONS
VAG5COV30
100% Polyester
Stain resistant
CODE
COMPOSITION
SPECIFICATIONS
I8INS07
51% Viscose - 25% Linen - 24% Polyester
Water resistant
CODE
COMPOSITION
SPECIFICATIONS
I8INS11
51% Viscose - 25% Linen - 24% Polyester
Water resistant
CODE
COMPOSITION
SPECIFICATIONS
I8FOR08
46% Cotton - 25% Polyester - 20% Viscose - 9% Linen
Water resistant
CODE
COMPOSITION
SPECIFICATIONS
I8FOR09
46% Cotton - 25% Polyester - 20% Viscose - 9% Linen
Water resistant
CODE
COMPOSITION
SPECIFICATIONS
Α3WIC01
100% Polyester
Stain resistant
CODE
COMPOSITION
SPECIFICATIONS
Α3WIC02
100% Polyester
Stain resistant
K5BEA11
52% Linen - 35% Cotton - 13% Viscose
I10MAR04
58% Cotton - 18% Viscose - 11% Polyester - 7% Linen - 6% Acrylic
I8RUS14
48% Cotton - 25% Polyester - 18% Viscose - 9% Linen
I7DOR09
42% Viscose - 30% Cotton - 18% Linen - 5% PS - 5% Polyester
I7DOR02
42% Viscose - 30% Cotton - 18% Linen - 5% PS - 5% Polyester
I8COM13
65% Polyester - 35% Cotton
I10TUN11
42% Viscose - 38% Cotton - 14% Acrylic - 6% Polyester
I10TUN12
42% Viscose - 38% Cotton - 14% Acrylic - 6% Polyester
I11DUN18-2
35% Cotton - 25% Acrylic - 18% Polyester - 13% Viscose - 9% Wool
I11DUN17-1
35% Cotton - 25% Acrylic - 18% Polyester - 13% Viscose - 9% Wool
K12TIT12
35% Cotton - 65% Viscose
CODE
COMPOSITION
SPECIFICATIONS
K5SAL09
80% Polyester - 20% Viscose
Water resistant - Stain resistant
CODE
COMPOSITION
SPECIFICATIONS
A1SMA03
100% Polyester
Stain resistant
CODE
COMPOSITION
SPECIFICATIONS
A1SMA02
100% Polyester
Stain resistant
CODE
COMPOSITION
SPECIFICATIONS
A1SMA01
100% Polyester
Stain resistant
CODE
COMPOSITION
SPECIFICATIONS
I4BOS14
100% Polyester
Stain resistant
CODE
COMPOSITION
SPECIFICATIONS
A4COL26
73% Polyester - 27% Cotton
Stain resistant
CODE
COMPOSITION
SPECIFICATIONS
A4COL31
73% Polyester - 27% Cotton
Stain resistant
INT6PAP604
100% Polyester
INT6PAP600
100% Polyester
CODE
COMPOSITION
SPECIFICATIONS
A3BOL26
60% Polyester - 40% Polypropylene
Stain resistant
CODE
COMPOSITION
SPECIFICATIONS
A3BOL28
60% Polyester - 40% Polypropylene
Stain resistant
CODE
COMPOSITION
SPECIFICATIONS
I3SEV14
100% Polyester
Water resistant
CODE
COMPOSITION
SPECIFICATIONS
K5RUM12
70% Polyester - 30% Viscose
Water resistant - Stain resistant
CODE
COMPOSITION
SPECIFICATIONS
A6GIA01
100% Polyester
Stain resistant
CODE
COMPOSITION
SPECIFICATIONS
A6GIA02
100% Polyester
Stain resistant
CODE
COMPOSITION
SPECIFICATIONS
A6GIA03
100% Polyester
Stain resistant
K7LIN108
62% Viscose - 38% Linen
CODE
COMPOSITION
SPECIFICATIONS
VAG5COV01
100% Polyester
Stain resistant
CODE
COMPOSITION
SPECIFICATIONS
VAG5COV02
100% Polyester
Stain resistant
CODE
COMPOSITION
SPECIFICATIONS
VAG5COV03
100% Polyester
Stain resistant
CODE
COMPOSITION
SPECIFICATIONS
Α3WIC21
100% Polyester
Stain resistant
CODE
COMPOSITION
SPECIFICATIONS
Α3WIC22
100% Polyester
Stain resistant
K7R-ADD14
78% Polyester - 10% Acrylic - 7% Linen - 5% Wool
I10MAR09
58% Cotton - 18% Viscose - 11% Polyester - 7% Linen - 6% Acrylic
I8RUS37
48% Cotton - 25% Polyester - 18% Viscose - 9% Linen
I8COM34
65% Polyester - 35% Cotton
I8COM35
65% Polyester - 35% Cotton
I10TUN27
42% Viscose - 38% Cotton - 14% Acrylic - 6% Polyester
I10TUN21
42% Viscose - 38% Cotton - 14% Acrylic - 6% Polyester
K12TIT11
35% Cotton - 65% Viscose
CODE
COMPOSITION
SPECIFICATIONS
I4BOS12
100% Polyester
Stain resistant
CODE
COMPOSITION
SPECIFICATIONS
A1SMA04
100% Polyester
Stain resistant
CODE
COMPOSITION
SPECIFICATIONS
A4COL24
73% Polyester - 27% Cotton
Stain resistant
CODE
COMPOSITION
SPECIFICATIONS
A3BOL29
60% Polyester - 40% Polypropylene
Stain resistant
CODE
COMPOSITION
SPECIFICATIONS
Κ2RIT06
88% Polyester - 12% Nylon/Polyamide
Stain resistant
CODE
COMPOSITION
SPECIFICATIONS
I4ADO56
100% Polyester
Water resistant
CODE
COMPOSITION
SPECIFICATIONS
I4ADO158
100% Polyester
Water resistant
K8MES05
40% Viscose - 40% Polyester - 20% Acetate
CODE
COMPOSITION
SPECIFICATIONS
K5SAL02
80% Polyester - 20% Viscose
Water resistant - Stain resistant
CODE
COMPOSITION
SPECIFICATIONS
VAG5COV04
100% Polyester
Stain resistant
CODE
COMPOSITION
SPECIFICATIONS
VAG5COV05
100% Polyester
Stain resistant
CODE
COMPOSITION
SPECIFICATIONS
Α3WIC19
100% Polyester
Stain resistant
CODE
COMPOSITION
SPECIFICATIONS
Α3WIC20
100% Polyester
Stain resistant
I8RUS19
48% Cotton - 25% Polyester - 18% Viscose - 9% Linen
I8COM19
65% Polyester - 35% Cotton
I8COM37
65% Polyester - 35% Cotton
K12TIT10
35% Cotton - 65% Viscose
I10MAR09
58% Cotton - 18% Viscose - 11% Polyester - 7% Linen - 6% Acrylic
CODE
COMPOSITION
SPECIFICATIONS
A1SMA08
100% Polyester
Stain resistant
CODE
COMPOSITION
SPECIFICATIONS
A4COL32
73% Polyester - 27% Cotton
Stain resistant
CODE
COMPOSITION
SPECIFICATIONS
A1SMA07
100% Polyester
Stain resistant
CODE
COMPOSITION
SPECIFICATIONS
I4BOS16
100% Polyester
Stain resistant
INT6PAP400
100% Polyester
CODE
COMPOSITION
SPECIFICATIONS
Κ2RIT20
88% Polyester - 12% Nylon/Polyamide
Stain resistant
CODE
COMPOSITION
SPECIFICATIONS
A3BOL31
60% Polyester - 40% Polypropylene
Stain resistant
CODE
COMPOSITION
SPECIFICATIONS
A3BOL32
60% Polyester - 40% Polypropylene
Stain resistant
CODE
COMPOSITION
SPECIFICATIONS
A3BOL34
60% Polyester - 40% Polypropylene
Stain resistant
CODE
COMPOSITION
SPECIFICATIONS
A3BOL35
60% Polyester - 40% Polypropylene
Stain resistant
CODE
COMPOSITION
SPECIFICATIONS
I4ADO59
100% Polyester
Water resistant
CODE
COMPOSITION
SPECIFICATIONS
I4ADO156
100% Polyester
Water resistant
K8MES07
40% Viscose - 40% Polyester - 20% Acetate
CODE
COMPOSITION
SPECIFICATIONS
I3SEV04
100% Polyester
Water resistant
CODE
COMPOSITION
SPECIFICATIONS
I3SEV28
100% Polyester
Water resistant
CODE
COMPOSITION
SPECIFICATIONS
A6GIA08
100% Polyester
Stain resistant
CODE
COMPOSITION
SPECIFICATIONS
A6GIA09
100% Polyester
Stain resistant
CODE
COMPOSITION
SPECIFICATIONS
A6GIA38
100% Polyester
Stain resistant
CODE
COMPOSITION
SPECIFICATIONS
VAG5COV07
100% Polyester
Stain resistant
CODE
COMPOSITION
SPECIFICATIONS
VAG5COV09
100% Polyester
Stain resistant
CODE
COMPOSITION
SPECIFICATIONS
Α3WIC16
100% Polyester
Stain resistant